Depthcharge is our annual compilation, available only to Three D Radio subscribers. It showcases a heap of local talent, from emerging to established performers, from demo recordings to official releases. The tracks featured on each Depthcharge compilation were nominated by our announcers and were selected from new releases produced by local bands and artists, lodged with Three D Radio. All subscribers to Three D receive the latest Depthcharge as part of their subscriber pack. Below is a retrospective of past Depthcharge compilations.
Depthcharge 22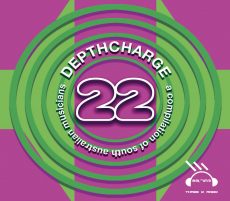 The Vains – Don't Think So 2:38
The Uglies – Big Dogs Only 2:14
Bird Detective – BPA Free 3:24
Jackulson – The Garden Dome 3:59
Trungllion Horse Power – Power Horse 2:53
Surf! Terror! Panic! – Surf Band Mama 2:15
Pool Toy – Coober Pedy 3:21
Church Moms – Cigarette 3:00
Anya Anastasia – Losing Wild 3:37
Inkswel & The Snaglepuss – Let It Grow (feat. Talib Kweli, Erin Buku & Baba Israel) 4:14
Alexander Flood – Pathways (feat. Christian Scott aTunde Adjuah) 4:31
Twine – Same Old Problems 4:56
HÄGÖL – Get Guilty 1:24
Coldwave – Buster 2:57
Molly Rocket – Asphalt 3:45
Tell Mama – Freedom Rising 4:13
Bermuda Bay – Fizzy 3:06
SVVLO – Routes 4:00
MONO KIOSKO – Infinity Pool 2:19
Zhao Liang – Kyo–Shu 4:18
Night Rites – Dark Patterns 4:23
Big Town – 2057 5:18
Depthcharge 21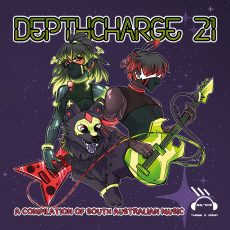 ADAM CIRILLO — A BOHEMIAN'S TALE (3:46)
BASTY BAND — FACTORY STAINS (3:12)
JESS JOHNS — STRANGER (4:37)
THE COLD FIELD — ENDLESS ENDING (4:29)
JUSTINA WARD — BE THERE (4:12)
JEN LUSH — BLACK HAMMER (4:11)
LILAC COVE — UNDERCURRENT (3:24)
THE HIGH BEAMERS — DREAMER (4:29)
LUNA MAGNET — ROLLERSKATING (3:44)
MADAM SUPER TRASH — HAUNTED (4:00)
BEND (FT. KARA MANANSALA) — OUT ALL NIGHT (5:56)
MUMS FAVOURITE — PRIMROSE (4:06)
RAT TAMANGO — WELL WELL WELL (2:12)
RACCOON CITY — CARNATION (5:44)
MY CHERIE — ROSE IN THE GARDEN (3:10)
TIM MOORE — WE WENT OUT (4:31)
SOUTHPAW — THE BEST KIND OF LOVING (2:22)
DEEP SEA DATA — DIGITAL LIFE (2:38)
VISITORS / EPHEMERONS — ADVOCATE (4:37)
THE PUBLIC HOLIDAY — BANANA (3:52)
Depthcharge 20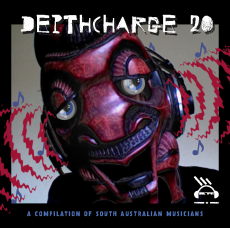 THE EMPTY THREATS – $2 (3:25)
LOS PALMS – Gypsy Souls (3:45)
MAISIE – Sharpshooter (4:38)
MYSTERY SEA CREATURE – The Most Unlikely Passer-By (4:50)
THE MIDNIGHT MARES – Autumn Moon (3:45)
THEM CREEPY CRAWLIES – Them Creepy Crawlies (3:41)
GUITARGASM – Koala Metal (1:55)
MUM FRIENDS – Rails (3:40)
MR WHIPPY – Unbefuckinglievable (2:47)
ALBANY AVENUE – A Little While (4:09)
BARDS BREW – Mask And The Gun (2:49)
ENGLISH SUMMER – Flowers For You (3:32)
COP SHOP – Enter Sandmine (3:18)
ISADORAS DREAM – Flight Of The Bees (3:27)
SIBERIAN TIGER – Water The Plants (3:34)
SLOWMANGO – Global Citizen (5:11)
SWEENEY – Out (4:10)
WING DEFENCE – Relocate (2:32)
Depthcharge 19
Madura Green – Crickets
Hey Harriett – Honest (Live From Studio 3)
Surfer Rosa – Pony
Sons Of Zöku – Dead Poets
Dead Roo – Turn Around
The 4 Star Heroes – Polar Bear
HYDROMEDUSA – People Like You
Teenage Joans – By The Way
Vivian Wildforce – Driving To Venus
Tim Walker – Red Velvet Chair
Seabass – Body Close
GIRL – Killing Season
Ethanol Blend – Tongue and Cheek
From The Valley – Bury Me
Towns – Safe To Stay
Oscar The Wild – Movie
Lost Woods – Cinnamon
China Roses – Outer
The Cameramen – Pulse Connection
Heinous Crimes – Procrastination
Depthcharge 18
Darts of Pleasure – Elixir
Your Loyal Heartless – Popping Candy
The Missile Studs – Nasty Doll
Trout – Shaft Splitter
The Hoverchords – The Gremlin
Mary Webb – Searching For More
Susan Lily – Had a Dream
The Skeleton Club – American River
Olympic Bingo – Olympic Bingo
Submerge – Slient Voyeur
Dr. El Suavo And The Freaks Of Nature – Physiotherapy
Drama Dolls – Syd (Sydless Mix)
Kate Fuller & The Boys Club – There Ain't No Sweet Man
Haystacks Calhoon – Good Good Night Out
Nylex – Fascinate
Stabbitha & The Knifey Wifeys – Fedora Destroyer
Dean Forever – Could This Be OK?
Blush Response – Still Life
Wex Dabbler – HP Hovercraft
Dom And The Wizards – Ana's Little City
Colourblind –Water
Lucy – Fuck You And The Horse You Rode In On
Depthcharge 17
The Craves Brighten Your Day
THANES Shake the Moon
Alana Jagt and the Monotremes Land of the Long White Cloud
Yeahyeahabsolutelynoway! Doubt
Swamp Kitteh Space Tiger
The Heggarties Wayside Chapel
The Real Mac Watch it all Evolve
Somnium Mystical Cookoo
The Sunday Reeds Blue Stockings
Burnside Mums Drive Out Of Town
Winter Witches Train
Kelly Brouhaha Audrey's Song
Bitchspawn Mini Van Of Dreams
The Meatbeaters Cold Embrace
Life Pilot One
Grenadiers Suburban Life
The Howling Fog Dead Me
Naomi Keyte Company
iiah Polaris
Little Dust Moon Song
Depthcharge 16
The Menace Hallowed
Cosmo Thundercat Warning Bell
Kettering Bug Navarone
Only Objects Dress For The End (Freezedream Re-Frame)
Ponytail Kink Libraries
Juliette Seizure & the Tremor Dolls You Had Your Chance
Battlehounds Good Man
Sean Kemp Break Up
Panoptique Electrical In Spite Of Yourself
Electric Sex Pants Nice Guys Can't Fuck
Chica Chica Electrica Los Bomberos
The El Caminos Suicidal Salmon
Rhys Howlett Eagle On The Hill
Troatt Walk Socks
Velvet Moth Lady Log
Duo Montagne Deeply In Love
Stranger Things Have Happened Something/Nothing
The Winter Gypsy Took Me By
Recreator Recreator
Goon Wizard Mediocre Mountain
Wolfpanther Pythagorean Triad
Depthcharge 15
The Clangers I'm Trying Hard Not To Hate You
Squeaker Let You Go
Rapid Transport Neighbour's Suppression
Rebecca Lyon Vampires
Sonatine BMX Horses (slight return)
Mr Gasman Man With The Golden Shovel
Young Offenders The Boys Are Out
Lazy Eye Organ Grinder
Picnic Casket Dirty Little Liar
Stardropper The Bottom Line
Loren Kate Til Night Meets The Sun
The Sloe Ruin Don't Call My Name
Startakit Not The Only One
Profiteers Burn It Down
Snobby Oxalis Kings of Seaford
Garry Moonboot Masters Be What You Are
Vintage Violence Heavy Load
The Violet Crams Attack Of The Cat
Soberphobia Who The Fuck Has Got My Lighter?
West Thebarton Brothel Party Glenn McGrath
Depthcharge 14
Psychodelicacy - Do you want to cry?
Babes Are Wolves - Down [listen]
The Bakers Digest - Archie
Battle of Flowers - Red Church
Til The Break - Boom Cha
Ben Gel and the Boneyard Saints - Police Line (Do Not Cross)
Centerlink - Drunk On Drugs
The Burning Sea - Phoenix 81 [listen]
Courtney Robb - Circles
Wasted Wanderers - God Damn Anything
Ghyti - Flourescent Lights Will Steal Your Soul
Ice On Mercury - Clown Insane
Blood Plastic - King Blood
Horror My Friend - Nothing
The Rememberz - Let Me Be Your Girl
Fair Maiden - Lord [listen]
The Tonight Show - Dirt
Satan's Cheerleaders - Into The Light
Sincerely, Grizzly - Us; Or Optimism
Slick Arnold - No Gins, No Knives, No Hand Grenades
Tom Redwood - Disneyland
Depthcharge 13
Black Coral - Swollen
Pro Tools - You make me want to cheat on my girlfriend
Ben Searcy - Chemistry
Caveman Disco - What do you want
Dr Piffle and the Burlap Band - Age of hats
Urtekk - Antiquity [listen]
Kitchen Witch - Shock
Last Days of Kali - Dear Houston [listen]
Bubonic Babe - Dancin' in the bomb blasts
The Lizards - Desert forever
Damned Men - Bear with a sore head
Summer Flake - Forever here and now [listen]
Glass Skies - Highway
Kaurna Cronin - Lover lie
Doctor DeSoto - Art to it
Todd Sibbin - The devil won't take my soul
iHeart - Lost in purgatory
Nekkro Electro - Zombie head
Wireheads - Note to self
St Morris Sinners - Too close to home [listen]
Depthcharge 12
The Villenettes - I Met A Boy
Kelshy - Beer For Breakfast
The Dunes - Trace The Sun [listen]
Autumn's Passage - Sparklers
Roadside Slasher - Control
Reverend Spud McGeek & The Chocolate Jesus - At The Fair
Rule Of Thirds - Total Disappointment
Glamville - Day Of The Octopus
The Readymades - Ghost And The Bones
Bitch Prefect - Bad Decisions
Brenton Manser - Traitor's Gate [listen]
Alpha Beta Fox - Pins And Needles
Perdition - Isn't It A Pity
Subtract S - 1000 Years [listen]
Old Mate - I Think Of You
The Hushes - Jeremiah
Tara Carragher - Last Drinks
Lily And The Drum - I Sit And Wonder
Emma Luker - Goldfish At The Laundromat
The Transatlantics - A Man Like That [listen]
Depthcharge 11
Hawks of Alba - Cut You Out [listen]
The Salvadors - Eliza Jane
Mountbatten - Ball And Chain
Wild Rocket - Dewey Decimal System
The Blind Herd - Cape Able
Like Leaves - Falling For A Fleeting Moment
Fake Tan - Back How It Was
Mondo Phase Band - Equaliser
Andy & Marta - The Water Is Wide
Snooks La Vie - Aeroplane Glue
The Sea Thieves - Focus The Stars
The Levitators - Once Again
Emily Davis - The Broken Machine
Terrible Truths - Patterns
Bearded Gypsy Band - Hungarian Holiday
Almost Numan - Factory
Lady Strangelove - Sweet Exchange
The Beards - You Should Consider Having Sex With A Bearded Man [listen]
Surviving Sharks - Bleed And See
Blockade - Stink
She's The Band - Never Seen A Chubby Hipster
Depthcharge 10
G.G. Alan Bindig - Kitty Always Wins
The Aves - Poor William
Ride Into The Sun - I'm Just Dandy
Dead Man Ink - Hate This Town
The Honey Pies - Sex Wax [listen]
The Mynd Gardeners - Discoteque
Standard Union - The Slide
Super Raelene Brothers - The World Turned Upside Down
Fiendish Cavendish - Dungeon Daughter
Raw Ether - Sneaky Machine (live to air)
Steering By Stars - Spirits
Turkey Ranchero - Turkey Ranchero
Stirling North & The Serious Lack Of Rainfall - Tucker TIme
Matt Reiner And The Aunt Sallys - Goyder's Line
Stormset - What You Want (Doesn't Exist)
Lenin McCarthy - I Don't Wanna Hold Your Hand
Poisonous Viper Gang - Closed Casket Viewing
Skunk Monkey - Ready To Go
Fluffy - Home
Vorn Doolette - The Christian & The Sinner (live to air)
The Timbers - Late At Night (from Live in 3D)
Depthcharge 9
All Flight Crew Are Dead - On The Radio (live to air)
Squid Jag - I Don't Care
The True Detectives - Every Man In Here Looks Like Tim Rogers
Viva Vas Deferens - Speck, Goosens and O'Mally
Cosmic Bikini - Red Bulls
Very Jane - Stay (live to air)
The Lonely Cosmonauts - Back Home In Adelaide
Bastard Sons Of Ruination - Old Low Down Whiskey Dog Bit Blues (live to air)
Pimpin' Horus - Redline (live to air)
Fire! Santa Rosa, Fire! - Witch House
Semi Normal - I'll Be There
Blacknail - I Hate You (live to air)
Leather Messiah - Lousy Human Bastards
Mournful Congregation - The June Frost
The Asteroid Belt - Incantations
The Beautiful Black - Hit The Wall
Isomer - The Fog Of This World
Colostomy Bag Lady - A Flock Of Seagulls Saved My Life
Fear And Loathing - Red Ring (live to air)
Splattergasm - Eaten By Cannibals
Friends - Satellite
Cal Williams Jr - The Forest
Depthcharge 8
Slingshot Dragster - Agent 0069
The Slime Balls - Suburban Sprawl
Zeta - The Takeback
Diesel Witch  - Lost In The Desert
The Rustlers - My Baby's Leavin' Me (live to air)
The Battery Kids - The End Of The World
Goldstein - Prick
Tony Font Show - Selfish In Bed
Akoustic Odyssey - Funk Metal Junk
The MERRg - Tamilla (live to air)
Van Cleef! - Ghost Train Dog (live to air)
Kytes Of Omar - Sally
Dead Popes Of The Vatican - I Want My Rock n' Roll Loud
Universum - Invisible Scars
The Toss - Devondale
Supermarket - Urban Spice
Etype - Why
The What 4 - Logans Run
Happy Ghosts - On The Move
Monkey Puzzle Tree - Rapture
Kirk Special, The One-Man Band - One Manning
The Systemaddicts - Rock n' Roll Noise Pollution
Mona Lisa Overdrive - It's Just Too Much
Depthcharge 7
The Hoodoo Voodoo Dolls - El Volvo Diablo
The Amcats - Bea Kaye
1.1 Immermann - Arts And Skiing
Heather Frahn Trio - Go (live to air)
Highway 31 - What You Meant
The Sack - Reconstruction
Riccochet Pete - You're At The Top
Swimsuit - Hardtimes
The Loving Tongue - Tears Of The Unicorn
Bird Lantern - Naked And Blue
Zeal - Yumi And The Sky
Reckless Haze - 12 Years Of Hell
Peterhead - Woman's Got A Piece Of Judgement Day
KAMIKAZE - Voodoo
Mish Golly Gosh! - Band Sluts
Laser Death Ray - The Pacific Delusion
Avant Gardeners - Really Good In Theory
Ian Moorhead - Damn Skipy
White Tiger A:. A:. - Slight Return
Depthcharge 6
The Pecadillos - Forever
Radio Spectacular!!!  - Little Stevie
Nick Cave's Mustache - Lies
Red Rascal - Other Girlfriend
Spiral Dance - Wayland's Steel
Mythyca - Colour Of Emptiness
The Dairy Brothers - My Neighborhood (Has Been Overrun By Baboons)
Frequent Seahorse - Change The channel
Running With Horses - Invisible
Aviator Lane - Comfort Is Shifting
The Fiddle Chicks - Katz (live to air)
A Devil Amoungst The Tailors - Jazz 1
Son Of Dad - Out The Window
The Brews - Beat The Punch
Obsidian Aspect - Bonespirit
dj tr!p - Whos Dope?
Raw Spud - Sitting On The Toilet
Sunburners - This Is Not My Horror
The Dolls - Pash Me On The Dance Floor
Lovebird Society - One More Night
The Saucermen - Devil's Elbow
Depthcharge 5
Poly & The Statics - Chainsaw
Ramonettes - Just Plain Bad
Confessions Of A Crap Artist - Drop It Down
Business As Usual - Dreams Swimming
Jodi Martin - Bordertown
HI-FI Low - She Is Lost To Me
Patriarchal Death Machine - No Hard Feelings
Les Goolies - The Dog Song
The Molting Vultures - Rowley Park
Belittle League - Ninja Robots
Jock Hobbs League - Your Charm Is Fictional
Illicit Eve - Forgiveness Is Free
Spindickle - Sad Captain
Huckleberry Swedes - Hair Trigger
John Baker Duo - Riverbirds
Feline Sky - Sleepwalking
Munchkin - Puzzled Secret
Happy Ghosts - Something Beautiful
Matthew & The Super RSI - Challenge Plant
Uber Stomp - Seventh Son
Unspoken Things - Puppets
Depthcharge 4
Ianto Ware - A Blue Sky
Abbie Cardwell - Fiction
MkB - S.A. Boy
Beat Smugglers - Daddy
The Echo Chambers - Ann Arbor
The Jerks - Welcome To The Vale
Blow Up Betty - Stakeout
Imminent Psychosis - Mayhem
Casio Brothers - Showbag
Matt's Little Brother - Flowers
Paper Tiger - One Drop Short
Wolf And Cub - Thousand Cuts
Angelik - Hate Me
The Zephyr Quartet - Loop
Raven Black Night - Morbid Gladiator
Lazaros Dog - He Expresses Himself Through His Music
Little Ice Age - Rolling Along
Central Deli Band - Mona
Stina - Earbite
Red Monika - Music
The Back$eat Romeos - Mudda Fuckin' Drinkin' Machine
Hit The Jackpot - Cats And Dogs
Chimp Inc. - Baroque Period
Luke Ashby & The Lonely Crowd - Time & Money
The Audreys - Monstor
Depthcharge 3
Straight 2 Video - Hot Genre
The Saucermen - Not Of This World
Baby Doll - Born To Lose
Horrahedd - Take The Radio
Smite For Tiger - Treat You Good
The New Pollutants - How Big Bird's Got Their Colours
Bleeding Hearts - The Meek Shall Inherit The Family Estate
Longhorn - Hi-Fidelity Infidel
The Yearlings - Ride
Trafalgars - Madaline Jones
Tired Children  - Past Tense
Bit By Bats - Sir! Beat Sir
Star Ten Hash - Pornography
Bombscare - Dubya
NFI - Choo Choo
Black Belt Jones - Wake Up Call
Hardy Coxon - The Rooster
Love Like...Electrocution - The Truth Of The Matter Is I Am Satan, And On Guitars We Have The Devils. This Is Devil Music
Brillig - Vacant Seas
Brer Mouse - The Modern Idiot
thelaybacks - Feel Lighter Tonight
Frontiers In Photography - Can I See You?
Clue To Kalo - Do I Know That Love Can End?
Depthcharge 2
The Satellites - Whole Lotta Livin'
Problem Pony - Damn
Roo Shooter - Hey Buddy
The Killchoir Project - No Love For The Haters
No Through Road - One More Kiss Before Dying
Tuscadero - All The Ancestors
Ungkas - Back Street
Hefer - Chaos
Avon - The Driver Who's Fault It Wasn't
Circle Clan - Rust
FroSt - Poking Holes In Your Research
1/8 Boy - Tokyo Advances
Soursob Bob - Resistance Girl
The Texettes - Spinning My Wheels
The Drowners - Yesterday's Coffee
Green Circles - I'm So Glad
J-DED - Samuraii
Toxic Shock - Animal
Ringo Stalin - Shucks No / I Blame Society
TOBY-1 - Homely
Pretty Boy Crossover - Disappearing Music For Face
Depthcharge 1
Andrew Bunney - Solid Ground
Yakspit - Bus Stop
The Trims - You
Baterz - Target's Airconditioner
Sarah Masters vs. Leigh Stardust - She Started Throwing Things
Home For The Def - The First Act Of Violence
The Retreads - Misty Night
The American Public - Contract Killer
Bergerac - Like I'm Still Involved
The Silvermine Tapes - Bringing Them Home
Fiona Beverage - After Hours
GT Stringer - Interstellar Woody
Johnny 7 OMA - Bowls Of Broken China
Baker Body & The Hillbilly Hoot - My Name's Ned
Superscience - Now Which Way To Where?
Digit - Every Moment
Hilltop Hoods - Distortion
Thinktank - In Anger
The Gels - Let's Go Down The Pub
Roadkill 66 - Shamradarie
King Daddy - Hex 22
The Bedridden - Funny Little People
Henry Cowpats - Get Rid Of It